Welcome
In November 2021 the Australian Centre for Christianity and Culture is welcoming more than 100 members of traditional, modern and emerging religious communities to a three-day ecumenical conference "Ancient Futures: The Renewal of Religious Life in the Australian Church".
Religious communities have been a vital element within the Church since its earliest centuries, and their flourishing will be indispensable to its future. Archbishop Justin Welby recently described them as "the canary in the coal mine" of the contemporary Church, and called for "a wild burst of fresh and Spirit-fuelled imagination" about religious community life in the 21st century.
The purpose of the conference is to reflect on the distinctive role played by religious communities during the first two centuries of Christianity in Australia; assess the history of new communities in Australia over the past 50 years; and consider how God may be calling 21st century Australians to various forms of religious life.
Conference Details
About
Since the earliest years of Christian history, women and men have responded to the Gospel of Jesus Christ in a radical way by intentionally committing themselves to distinctive forms of common life under a shared rule, often shaped by some form of the Evangelical Counsels (poverty, chastity, obedience). Historical expressions of intentional community life have taken many different forms over the centuries: monastic, mendicant, apostolic, ecumenical, charismatic, single-sex / mixed, celibate / married, temporary / life-long ... Religious communities are also to be found across all the churches: Orthodox, Catholic, Anglican, Lutheran, Reformed, Evangelical, Pentecostal ... While standing outside the hierarchical structures of the Church, members of religious communities are called to make a distinctive contribution to its "life and holiness" (Roman Catholic Code of Canon Law 207 §2): often, indeed, such communities emerge when the institutional Church requires radical renewal.
Within the Anglican Communion, Archbishop Justin Welby has provoked a fresh wave of thinking about intentional communities by establishing as his First Priority "the renewal of prayer and religious life". In 2014 ++Justin laid down the following challenge:
We need a wild burst of fresh and Spirit-fuelled imagination about Religion [= religious community life] in the 21st century. It will be embedded in its traditions, but as in all past renewals of Religion it will also be different. Above all it will be spontaneous, not top down and under control. So what needs doing? What institutional changes are needed? How does the church, how do the churches (we are not all Anglicans here) obstruct you, hinder you when we should celebrate and support? What re-imagination do we need?
Three major conferences have subsequently been held in England, bringing together ecumenical representatives of traditional, new and emerging religious communities: "Treasures Old and New" (Whitby Abbey, 2015); "God, The World and Each Other" (Lee Abbey, 2017); "Differences in Common" (High Leigh, 2019).
Using the same model, "Ancient Futures" will bring together ecumenical representatives from a wide range of traditional, new and emerging communities across Australia, in order to:
Reflect on the distinctive role played by religious communities during the first two centuries of Christianity in Australia
Assess the history of new communities in Australia over the past 50 years: founding charisms, missions, relationships with church hierarchies, sustainability over time
Consider how God may be calling 21st century Australians to various forms of religious life, and what ecclesial conditions (e.g. vision-casting, theology, resourcing, oversight, ecumenical collaboration) are now required to enable what the Holy Spirit is doing.
Conference Location
The conference is located at the Chapel at the Australian Centre for Christianity and Culture, 15 Blackall Street, Barton, ACT.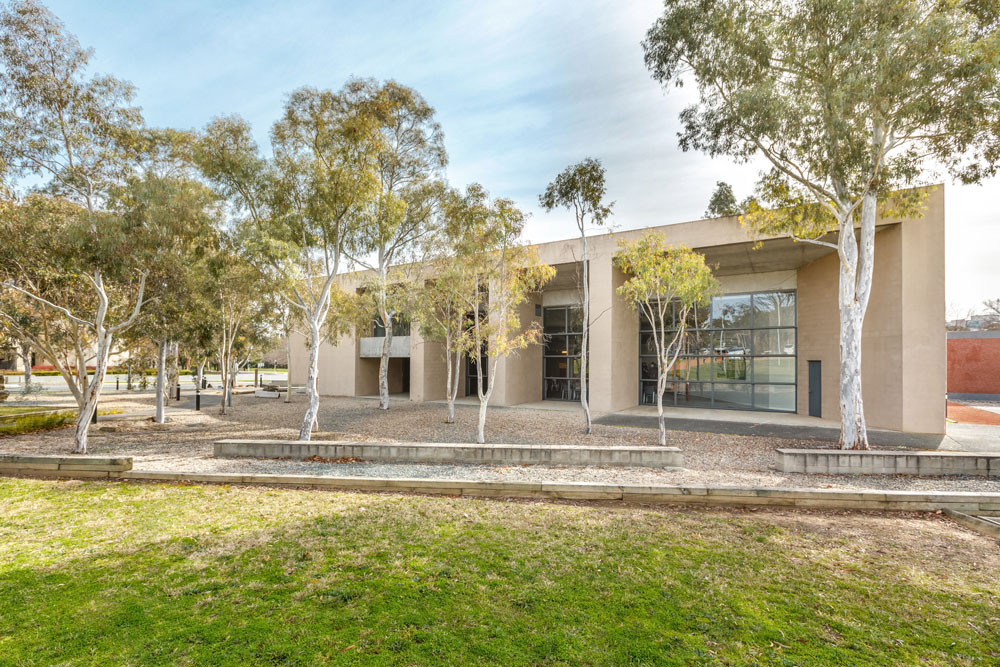 Accommodation
Canberra offers a wide range of accommodation options at a variety of price points suitable for single or accompanied travellers. The following hotels are all in close proximity to each other and within walking distance to the conference venue:
A short car-drive away are some more affordable accommodation options:
Parking
Free parking is available on site for attendees during the three days.
Please use P2 carpark which is the first carpark you come to from Kings Avenue. Please do not park in P1 which is St Mark's carpark. Volunteers will be at the boom gate to assist you with parking.
Speakers
Hugh Mackay
Hugh Mackay is a social researcher and bestselling author of 19 books, including The Good Life, The Art of Belonging and his latest, Australia Reimagined.
He has had a 60-year career in social research, and was also a weekly newspaper columnist for over 25 years. Among many honorary appointments, he has been deputy chairman of the Australia Council for the Arts, chairman of trustees of Sydney Grammar School, the inaugural chairman of the ACT Government's Community Inclusion Board and an honorary professor at Macquarie, Wollongong and Charles Sturt universities. He is currently a patron of the Asylum Seekers Centre.
In recognition of his pioneering work in social research, Hugh has been elected a Fellow of the Australian Psychological Society and awarded honorary doctorates by Charles Sturt, Macquarie, NSW, Western Sydney and Wollongong universities. He was appointed an Officer of the Order of Australia in 2015.
Katharine Massam
Associate Professor Katharine Massam is a historian of faith and belief with a strong focus on religious communities. Her early publication on Catholic spirituality (Sacred Threads, University of New South Wales Press, 1996) pioneered attention to the 'lived experience' of religious belief in Australia and her two most recent books focus specifically on Catholic religious women: A Bridge Between: Spanish Benedictine Missionary Women in Australia (Australian National University Press, 2020), Vision and Mission: Presentation Sisters in Victoria 1960 -2020 (John Garrett, 2020). She is Academic Dean at Pilgrim Theological College within the University of Divinity, Melbourne where she also convenes the university's strategic goal in Gender and Theology.
Archbishop Christopher Prowse
Archbishop Christopher Prowse was appointed Catholic Archbishop of Canberra and Goulburn, Australia in 2013. He was previously the Bishop of Sale Diocese (2009 – 2013). He was appointed Vicar General of the Archdiocese of Melbourne in 2001. Afterwards he was appointed as Auxiliary Bishop of Melbourne in 2001.
Archbishop Prowse is a current member of the Australian Catholic Bishops Conference as Chair, Bishops Commission for Evangelisation, Laity and Church Ministry. He was a member of the Pontifical Council for Interreligious Dialogue, Rome but recently resigned. In 2014 he was appointed Consultor to the Vatican's Commission for Religious Relations with the Jews.
Tim Watson
The Reverend Dr Tim Watson is Rector of Holy Cross Hackett in Canberra. Born in Cheltenham, UK, Tim grew up in an Anglican family, studied history and French, and worked initially as a university lecturer. He moved to France in 2002 to join a religious community, Chemin Neuf, which grew out of the charismatic renewal in the 1970s and has a particular call to work for the unity of Christians. It was there that he met his wife Kate, an Australian Roman Catholic, and they were married in 2006.
After studying for the ministry in England and France, Tim was ordained in 2011, and served in the Dioceses of Liverpool and Chichester, before discerning God's call to move with his family to Australia at the end of 2018.
As a member of the Church of England's Advisory Council for Relations between Bishops and Religious Communities, Tim has also served the renewal of religious life both within the Anglican Communion and ecumenically. He has had the privilege of getting to know a wide range of traditional, new, and emerging communities over the past few years. An experienced musician, Tim has a passion for creative worship that brings together the best of traditional and contemporary styles.
More speakers to be advised
Program