About
The Colloquium for Ageing Perspectives and Spirituality (previously the Centre for Ageing and Pastoral Studies) is excited about the forthcoming 20th anniversary of the Ageing and Spirituality conference with its return to Canberra in 2019. The inaugural spirituality and ageing conference was held in the National Capital in January 2000 and convened by Professor Elizabeth Mackinlay. Now in its 8th iteration, the national and international profile of the conference has grown significantly. It attracts people from across the globe who are at the forefront of ageing and spirituality; an area that has only recently begun to be recognised as vital to the well-being and care of older people.
The conference theme, 'Changing Cultures of Ageing and Spirituality', will address changing cultures (defined in their broadest sense) in the 21st century, specific issues of later life, working with older people and theological and ethical issues. International speakers have been invited from Singapore the USA, UK and NZ. We anticipate abstracts submissions from many different contexts which will broaden understanding of 'changing cultures'. We have much to learn from one another.
The conference will be interesting for international delegates with Australia at the forefront of addressing contemporary issues on ageing. In particular the new Aged Care Quality Standards which take effect in July 2019 highlight meeting spiritual needs such as meaning, purpose, identity, beliefs, and wellbeing. These new standards are a departure from existing standards where the main focus was on inputs of physical well-being and care. These new standards will be highlighted in the conference.
As the Royal Commission into Aged Care Quality and Safety proceeds in 2019 it is anticipated that this conference will help clarify, encourage and develop professional practice.
A brief history of the conference
First conference was held in Canberra, January 2000 at the Australian National University. The theme was Ageing, Spirituality and Pastoral Care in the twenty-first century.
Second conference was held in Durham, UK in July 2002 at Durham University. The theme was Ageing, Spirituality and Well-being in the twenty-first century.
The third conference was held in Adelaide, South Australia, in October 2004 at Adelaide Festival Centre. The theme was Ageing, Spirituality and Palliative Care.
The fourth conference was held in Auckland, New Zealand in 2009. The theme was Ageing and Spirituality: Gender, Culture, and Care.
The fifth conference was held in Edinburgh, Scotland in July 2013 at Edinburgh University. The theme was Creativity in Spiritual Care.
The sixth conference was held in Los Angeles, USA in October 2015. The theme was Paradox and Promise in the Pilgrimage of Ageing.
The seventh conference was held in Chicago, USA in June 2017. The theme was Transition and Transcendence: Transforming Ageing Through Spirituality.
Accommodation
Canberra offers a wide range of accommodation options at a variety of price points suitable for single or accompanied travellers. The following hotels are all in close proximity to each other and within walking distance to the conference venue:
*Doma Hotels is offering Conference attendees a 15% discount on its lead room rates across its hotels: Brassey Hotel, Hotel Realm, Burbury Hotel and Little National Hotel. To take advantage of the discount, guests can visit their websites directly and follow the links to make a reservation. Enter the Booking Code 'Event' in order to receive the 15% discount. Alternatively, please call or email the Central Reservations team and advise which hotel you would prefer to book and quote the code 'Event' Central Reservations +61 2 6163 1888 reservations@domahotels.com.au
Booking Conditions:
A valid credit card is required to secure your reservation.
No rooms are being held aside, all reservations are subject to availability.
All promotional/discounted rates are subject to availability and may be closed at any time. If the EVENT discount is no longer available, rates will be quoted at the best available rate.
Things to see in Canberra
For more events see Visit Canberra
Parking
Free parking is available on site for attendees on Sunday 27 October 2019
Old Parliament House
The hours of pay parking operation are 8.30 am to 5 pm, Monday to Friday (excluding public holidays).
Limited short stay parking is available throughout the Parliamentary Triangle, including around Old Parliament House.
The NCA has produced a map showing the areas in Parkes where pay parking applies.
We would encourage attendees to book accommodation nearby and walk to the conference site
Alternatively, the ACC&C is offering attendees the use of its carpark on 15 Blackall Street, Barton from Monday to Wednesday. Please use P2 carpark which is the first carpark you come to from Kings Avenue. Please do not park in P1 which is St Mark's carpark. Volunteers will be at the boom gate to assist you with parking.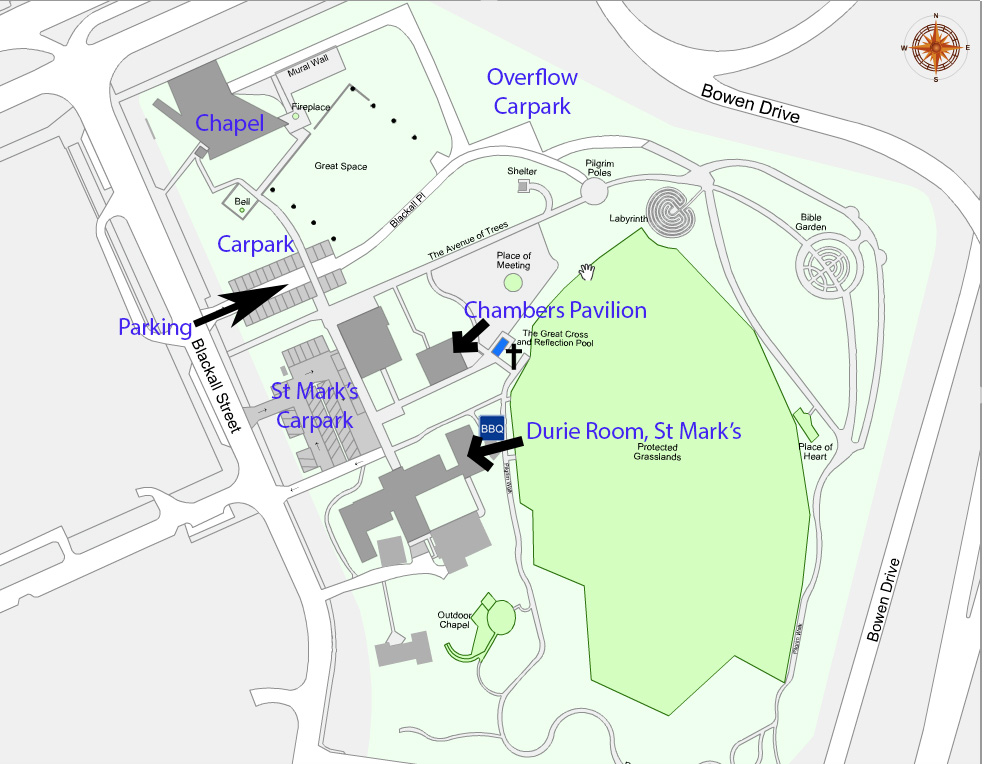 International Guests
See Bus Timetables at Transport Canberra
Travel Documents and Visa
Conference location
The Conference is being held at Old Parliament House 18 King George Terrace, Parkes ACT 2600.
Find out more about the venue.
There will also be a Welcome Reception and workshops at the Australian Centre for Christianity and Culture on the 27th of October.