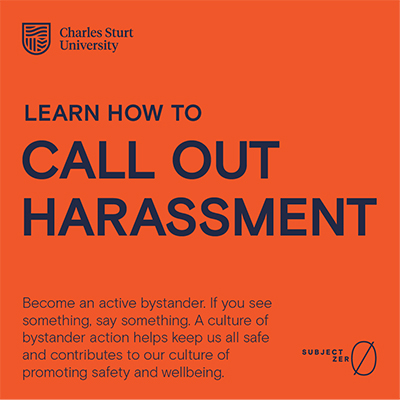 In 2016, the Australian Human Rights Commission conducted a national independent survey of Australian university students to gain greater insight into the nature, prevalence and reporting of sexual assault and sexual harassment at Australian universities.
21% of survey participants reported that they had experienced sexual harassment, and 1.6% reported experiencing sexual assault.
There are real students behind these statistics, and everyone at Charles Sturt can play their part in helping to reduce them.
If you see something, say something.
Seek support or advice or make a report using our online form.
A culture of bystander action can bring about change. Bystanders can intervene when they see instances of harassment by using the four D's:
Distract - interrupt and attempt to de-escalate the behaviour.
Delegate – bring in someone else to help intervene if required.
Direct – address the harasser's behaviour directly; be confident, assertive and calm.
Defer – support the victim afterward; ensure they know they're not alone. Let them know where to get support and how they can report.
You can learn more about bystander behaviour in our online Healthy Relationships module. Healthy Relationships is part of the Being Well, Living Well suite of modules. To access, first login via the main Interact2 portal.
In 2021, Charles Sturt students will be invited to participate in another national independent survey and we encourage you to participate so we can stay informed, take action and create a world worth living in.