Gateway Health's Listening to Voices
Start: 26 May 2023 6:00 pm
End: 26 May 2023 8:00 pm
Bathurst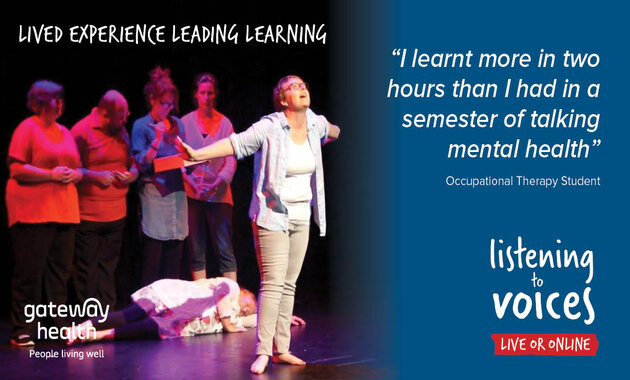 Charles Sturt University is pleased to host Gateway Health's Listening to Voices performance, which is 60 minutes of a journey you will not easily forget. This moving performance goes straight to the heart of four people who have experienced the mental health system for years. Their stories connect audiences to empathy and understanding. This award-winning lived experience group and performance seek to address and eradicate stigma, empower and enlighten and offer a stimulus to sincere reflection in the space of mental health. This innovative work provides audiences a unique opportunity to listen to those with lived experience and to consider the current way in which we discuss and diagnose human distress.
A message of hope recovery and humanity for community and those who are the health professionals now and of the future.
Following the performance there will be an opportunity to stay for questions, conversation and a cuppa.
Artistic Director: Catherine Simmonds OAM
Directions