Explorations Series: Louise Hardman in partnership with Sustainability at Charles Sturt
Start: 26 Oct 2022 5:45 pm
End: 26 Oct 2022 7:45 pm
Port Macquarie
FREE Tickets: Find out more or RSVP
Plastic Solutions and Circular Economy Principles for Regional and Remote Communities.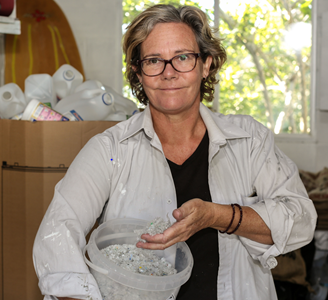 Please join us for an evening in the Charles Sturt Theatre with leading plastic educator, zoologist, and science teacher Louise Hardman.
In this powerful presentation Louise will discuss:
The global plastic crisis.
Material knowledge of plastics.
Plastics 101 - learn about different families, resins, types, and forms of plastics and how they can be recycled.
How attitudes create waste and cause pollution
Circular Economy principles - designing out waste and regenerative systems.
Solutions for remote and regional communities, struggling with plastic pollution.
Setting up a local action plan for your community.
Come and be inspired and become a collaborator of change, in this powerful presentation by Louise Hardman, in partnership with Sustainability at Charles Sturt.
Event Location
Charles Sturt Theatre - Building 802, 7 Major Innes Road, Port Macquarie, NSW 2444.
Venue / Address:
Charles Sturt University 7 Major Innes Road, Port Macquarie, NSW 2444