Addressing oral health care in collaboration with our regions
Project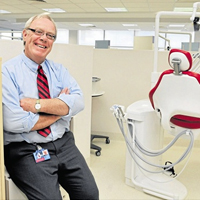 One of the driving goals behind the establishment of the Charles Sturt University's Community Dental and Oral Health Clinics in Albury-Wodonga, Bathurst, Dubbo, Orange and Wagga Wagga was to address the shortage of dental services for people in rural and regional communities.
When Charles Sturt University first conceived of the idea of starting a dental program, it was the mounting evidence of the impact of poor oral health in rural areas on the overall health of our communities that drove our response.
Working with a dedicated community team from the Rural Dental Action Group, we worked with local doctors, dentists and advocates to design a program that not only rural kids a fair chance to study dentistry, but would bring new services to our communities at the same time.
Through the clinics, the Community and University could work together to solve a mutual challenge – for the community it was access to improved dental services for the thousands left waiting on public dental service lists; and for the University, it was access to patients to ensure our students had the necessary clinical practice time so they would be qualified on completion of their program.
This was a particular challenge for the CSU program, because we had decided on advice from our communities and the Australian Dental Association to offer a longer program than offered at other universities, so our students had more clinical practice experience and could work in rural settings confidently.
The industry was telling the University that graduates from many other universities had too little practice experience, and needed significant support when they graduate from employing dentists before they were up to speed.
In response, we developed a plan to build 5 new community based dental and oral health clinics across our rural campuses to collaboratively meet the needs of the community, industry and University.
Over the last 5 years the clinics, in conjunction with the Allied Health Clinics, have provided over 35,000 patient services to our regional communities who cannot access traditional health services.
Annual patient services are expected to climb dramatically now our first cohort has completed their degree, with more than 60% going on to work in rural and regional areas.
Through the clinics, members of the community get a chance to help our students with their clinical training, while improving the oral and overall health outcomes for our communities.
Campus
Albury-Wodonga, Bathurst, Dubbo, Orange and Wagga Wagga
Lead Centre
School of Dentistry and Health Science
Partners
Community
Link