CanLIFT - Resistance Training for Post Cancer Survivors
Project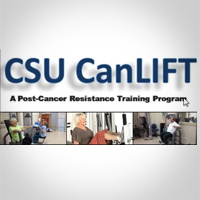 Following primary cancer treatment/s, a significant numbers of cancer survivors report ongoing cancer and/or treatment related side-effects such as fatigue, reductions in bone mineral density and muscular strength that impact adversely on quality of life and physical function.
To address this challenge/opportunity a 12 week resistance training program, CanLIFT, aimed at managing some of the long-term effects of cancer and/or its treatment was delivered to post primary treatment cancer survivors within the local Bathurst community.
Several meaningful health-related benefits were gained by participants including: 1) a comprehensive health screening appraisal, providing information regarding risk of developing secondary health conditions (e.g. heart disease, diabetes, body composition, etc) and 2) improved fatigue symptoms, increase bone mineral density and fat free mass; reduce fat mass; increased muscular strength, improved mood and overall quality of life.
Long term benefits of participating in this supervised, structured and progressive exercise program have included increased rates of post-program exercise participation, which has assisted in maximising health related gains and/or maintenance of exercise induced health benefits.
The research data will be used in developing evidence-based guidelines aimed at minimising fatigue symptoms and improving quality of life and general well being in this population. This information will be important for all allied health professionals involved in the management of post cancer fatigue survivors, such as General Practitioners, Oncologists, and Exercise Physiologists.
Campus
Bathurst
Lead Centre
School of Exercise Science, Sport and Health
Partners
Daffodil Cottage, Bathurst Base Hospital
Bathurst Prostrate Support Group
Bathurst Breast Cancer Support Group
Link