Digging deep for regional tourism growth
Project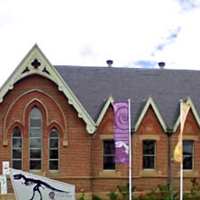 The Somerville Collection was a labour of love for local collector Dr Warren Somerville, who had spent his life collecting fossils and minerals from around the world. Housed in a makeshift museum, this rare collection of specimens was not displayed to its full potential. Recognising the potential of the collection as a major tourism resource, Charles Sturt University worked with Bathurst Regional Council to support the establishment of the Australian Fossils and Minerals Museum in Bathurst.
The Museum houses the Somerville Collection.
The partners worked together, with Charles Sturt University taking charge of fund raising, and Bathurst Regional Council working with the State Government to secure access to the old 1867 Bathurst School building in the centre of Bathurst and to establish the governance and management structures.
The collection is now a valuable and unique part of the tourism economy of Bathurst and central western NSW, including crystals from over 100 Australian mine sites, a 2000 million year old garnet, a complete Tyrannosaurus Rex skeleton, Australia's largest collection of fossils in amber, fossil dinosaur eggs, some of the oldest fossils of early forms of life, and a large collection of Australia's unique opalised fossils.
Delivering over one million dollars in seed funding from the University, and from the community through the Charles Sturt University Foundation, the Museum is now an integral part of the Bathurst community and draws thousands of tourists annually to the local economy.
It is a branch of the Australian Museum in Sydney and has been recognised as a centre of excellence with a range of awards.
Campus
Bathurst
Lead Centre
Head of Campus, Bathurst
Partners
Bathurst Regional Council
NSW Department of Premier and Cabinet
Australian Museum
Generous Donors from the Community
Dates
Link