Expanding health services in cooperation with rural communities
Project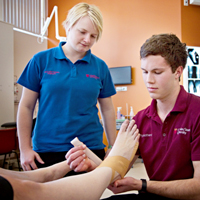 Charles Sturt University's Allied Health Clinic is a great example of how the University and community work together to improve local health, while also providing critical training opportunities for students.
The Clinic was opened in 2003 offering a comprehensive podiatric services, with senior students closely supervised by qualified, experienced professional staff.
By training regional and metropolitan students in a major regional centre such as Albury-Wodonga, CSU is able to encourage graduates to remain in regional Australia, serving the communities that they already know.
The modern clinic, funded by a grant from Health Workforce Australia, is located on the University's Albury-Wodonga Campus and includes state-of-the art consultation rooms, a surgical room, sterilisation room and a gait analysis area, as well as the latest computerised booking systems.
Members of the community can make appointments for assessment and treatment, providing an invaluable practice-based learning environment for students, while improving access for rural communities to important allied health services.
With approximately 70 per cent of graduates from the School of Community Health working in regional Australia, the clinic is able to provide the training facilities to better serve these communities.
Over the last 5 years the clinics, in conjunction with the Community Dental and Oral Health Clinics, have provided over 35,000 patient services to our regional communities who cannot access traditional health services.
Campus
Albury-Wodonga
Lead Centre
School of Community Health
Partners
Community
Link