Expanding health services with rural communities
Project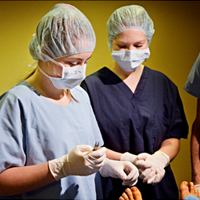 Charles Sturt University (CSU) and Murrumbidgee Local Health District (MLHD) formed a partnership linking post-graduate distance education and health services.
The partnership enables students in the Master of Health Services Management to work with MLHD on a project to research the changes in private health insurance coverage and usage in the public sector in rural areas.
The student team members, who have never met face-to-face, will work collaboratively using CSU's online learning systems.
The project exploits CSU advanced online learning systems in health services management to allow students already working as health care professionals to work with real problems identified in their workplaces.
While providing practical experience for our postgraduate students, the project will also deliver practical and valuable information to the Local Health District with the potential to inform planning and policy at a broader level across the health system.
Campus
Wagga Wagga
Lead Centre
Faculty of Science
Partners
Murrumbidgee Local Health District
Link