From Rural School to Rural Nurse
Project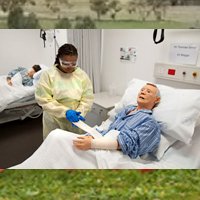 In 2008 Charles Sturt University collaborated with local schools and the Western Institute of TAFE in a $2.1 million bid to establish a Nursing and Healthcare Training Facility at Canobolas Rural Technology High School.
Under the program, school students from Canobolas, Molong Central School, Anson Street School and Blayney High School have access to a state of the art health training facility as part of their studies.
Students who successfully complete health subjects at school to an appropriate standard are guaranteed access to Charles Sturt University's or a TAFE nursing program.
Campus
Orange
Lead Centre
School of Nursing
Partners
Canobolas Rural Technology High School
Orange Molong Centre School
Molong Blayney High School
Blayney Anson Street Special School
Orange Western Institute of TAFE
Dates
Link