Riverina Equestrian Centre
Project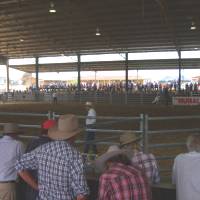 Charles Sturt University entered a partnership with Wagga Wagga City Council to create a purpose-built equestrian facility to cater for horse riders in the Riverina and from further afield. The facility aims to improve links between the University and the wider Riverina community as well as attract riders from across Australia.
Once completed the equine centre will feature competition standard arenas for various horse related events; a warm-up arena, day yards, horse wash bay, spectator seating, improved amenities and car parking, short-stay accommodation for horses and camping facilities.
Works completed in 2013 included construction of a 60 x 25 metre warm-up arena with dust suppression system, covered day yards to comfortably house horses and road upgrades to cater for horse transportation. The project has moved ahead in 2014 with work carried out to complete two competition arenas, electrical works, storm water improvements and the installation of an irrigated septic system. Total cost of the project is approximately $1 million.
Campus
Wagga Wagga
Lead Centre
School of Animal and Veterinary Sciences
Partners
Wagga Wagga City Council
Riverina Equestrian Association
Riverina Reining Association
Equestrian Australia