SpICE Program - getting ready for rural work
Project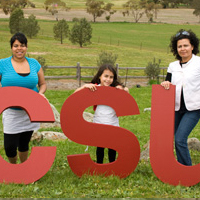 SpICE (Specialist Integrated Community Engagement) is a partnership model of community engagement that uses students, in consultation and collaboration with communities, to develop skills in the rural workforce so as to reduce the unnecessary and unfair disadvantage faced by rural, remote and Indigenous families.
CSU SpICE student placements aim to develop skills and knowledge inherent within good citizenship and contribution to community, and link the development of these attributes to discipline-specific learning from a number of CSU's teaching programs.
SpICE focuses on building the capacity of the community concerned by developing partnerships between government services, outreach specialist services, the non-government and university sectors, as well as with community members. By participating in activities with a specific focus, a 'Community of Learners' evolves. Together, the Community of Learners develops solutions to address local needs.
SpICE placements run as either 'day-a-week' each semester of the University year for communities clustered around CSU campuses, or on 3 to 5 week block placements twice a year for more distant communities
Campus
Albury-Wodonga
Lead Centre
School of Community Health, School of Dentistry and Health Sciences, School of Biomedical Sciences
Partners
Community
Contact