Wiradjuri Language and Cultural Heritage Recovery Project
Project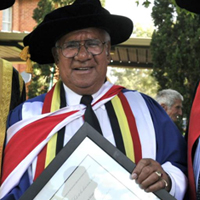 The Wiradjuri people were the First Nations peoples of the central west and western slopes and plains region of NSW. Wiradjuri country extends from Coonabarabran in the north, straddling the Great Dividing Range down to the Murray River and out to western NSW. Wiradjuri traditional country includes the townships of Dubbo, Condobolin, Orange, Bathurst, Wagga Wagga, Albury, Narrandera, and Griffith.
Due to the effects of colonisation the Wiradjuri language was almost lost during the 20th century but has recently undergone a revival. It is now taught in some central west high schools and through the pioneering work of Wiradjuri Elder, Dr Stan Grant, has been captured in a new Wiradjuri Dictionary. However, if the Wiradjuri language is to be recovered its use must become widespread, not only among the Wiradjuri people but in our classrooms.
This has been the focus of our collaboration with the Wiradjuri nation in developing the Wiradjuri Language & Cultural Heritage Recovery Project. Working with the Wiradjuri Elders and community, Charles Sturt University was able to develop a new Graduate Certificate in Wiradjuri Language, Culture and Heritage which commenced in 2014.
The aim is to help Wiradjuri and non-Wiradjuri people preserve the community's language for generations to come.
Campus
Albury-Wodonga, Bathurst, Dubbo, Orange, Wagga Wagga
Lead Centre
Centre for Indigenous Studies
Partners
Wiradjuri Council of Elders
Wiradjuri community members
Dates
2014
Link