Writers Unblocked in the Bush
Project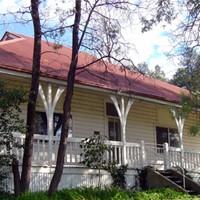 The Booranga Writers' Centre was established in 1993 in an old cottage on the expansive Wagga Wagga Campus of CSU.
It aims to serve and promote the interests of local writers. Booranga serves its members and the local community in a number of ways.
Firstly, it organises well known writers to come and stay at the Booranga Writers' Flat (attached to the Centre) and during their time there they give readings and workshops to the local community, and often closely mentor chosen local writers.
Secondly, the Centre publishes an annual anthology fourW, which brings together new poetry and prose from local writers, as well as writers from across Australia and the world.
Finally, the Centre facilitate writers passing through the region with venues and support for book-launches and readings to support engagement between the arts and the region.
Campus
Wagga Wagga
Lead Centre
Faculty of Arts and Education
Partners
Wagga Wagga Writers Writers Inc City of Wagga Wagga Regional Arts NSW Arts NSW
Link