History, racism, reconciliation and hope - Stan Grant talks about his documentary, "The Australian Dream"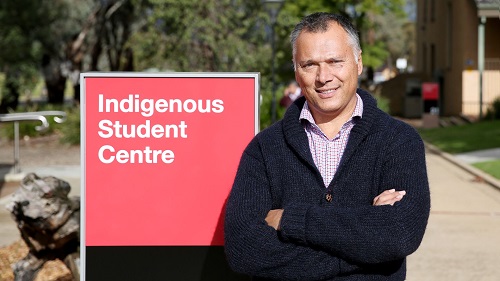 Outline
Join Stan as he outlines the four key themes of his award-winning documentary, The Australian Dream: History, Racism, Reconciliation, and Hope.
Directed by Daniel Gordon with screenplay by Stan Grant and starring Adam Goodes, Stan Grant, Tracey Holmes, Nova Peris and Linda Burney, The Australian Dream follows the story of Indigenous AFL legend Adam Goodes and his journey of identity and belonging in Australia today.
This series is best used as a follow-up to viewing the documentary. The Australian Dream is currently available on ABC iView up until 22 June, 2020.
Syllabus Links
English
HSIE
Literacy
Critical & Creative Thinking
Personal & Social Capability
Ethical Understanding
ATSI Histories & Culture
Difference & Diversity
Stan Grant
Professor, journalist and beloved Australian icon, Professor Stan Grant Jnr has recently added a new role as Vice Chancellor's Chair of Australian-Indigenous Belonging at Charles Sturt University.
Prior to this appointment, Professor Grant was Chair of Indigenous Affairs at Charles Sturt since 2016. But this was not the Grant family's only link to the University. Dr Uncle Stan Grant Snr, Professor Grant's father, is a Wiradjuri Elder and coordinator of the University's Graduate Certificate in Wiradjuri Language, Culture and Heritage.
Professor Grant has also worked in Global Affairs at Griffith University and has a highly respectable, 30-year career in journalism, including a former position as ABC's Global Affairs and Indigenous Affairs Analyst.
He is one of Australia's most respected and awarded journalists, with experience across radio, television news and current affairs. With a strong reputation for independence and integrity, one of his most significant positions was as a Senior International Correspondent for CNN in Asia and the Middle East.
Stan has been awarded three Walkley awards, two Peabody awards, four Asia TV awards, an Australian TV Logie award, International Indigenous Trailblazer award, two Australian Academy of Cinema Television awards, an Australian Heritage Literature award and an Association of International Sports Journalists award, among many others.
Professor Grant has also published four critically acclaimed and best selling books on identity and Australian Indigenous history, and in 2019 wrote, and featured in, the full-length documentary film, The Australian Dream. The documentary won the AACTA Award for best feature documentary in 2019.
Part three: Reconciliation
Resources
Below is a list of resources.