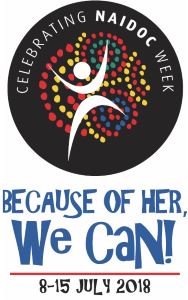 NAIDOC Week is a great opportunity for Charles Sturt University to celebrate the history, culture and achievements of our Aboriginal and Torres Strait Islander staff, students and community members. This year NAIDOC Week will be held from 8-15 July.
CSU acknowledges the culture and insight of Indigenous Australians through our ethos which is clearly described by the Wiradjuri phrase 'Yindyamarra Winhanganha'. This phrase means 'the wisdom of respectfully knowing how to live well in a world worth living in'.
NAIDOC Week is just one example where we can demonstrate and celebrate how we develop and partner with holistic, far-sighted people who help their communities grow and flourish. Approximately 2.6% of CSU staff are Indigenous and we are supporting over 1100 Indigenous students to achieve their educational goals.
2018 Charles Sturt University NAIDOC Awards
The National NAIDOC theme for 2018 is 'Because of her, we can'. This represents a focus on the active and significant roles that Aboriginal and Torres Strait Islander women play across the country.
This year, CSU is calling for nominations to award Indigenous women who are influencing and shaping our local communities. Awards will be given at the local morning tea celebrations that are being held on each campus during NAIDOC Week.
Anybody can nominate, including staff, students and community members. We encourage you to make a nomination to help us celebrate and share the stories of local women who are making a difference.
Please take the time to review the details of award recipients (for events that have already occurred).
Making a nomination
Nominating is easy!
Complete the nomination form
Email it to NAIDOCWeek@csu.edu.au
You can either write your nomination or submit a short video narrative (no more than 3 minutes) along with the form.
Please see below for nomination closing dates by campus location.
Join us for the celebrations
Please join us for the celebrations! Students, staff and community members are all welcome.
Email your RSVP and campus location to naidocweek@csu.edu.au
Campus events
Campus
Date
Location
Nominations Close
Wagga Wagga
10.30am Tuesday 10th July 2018
The Hub
30th June 2018
Bathurst
10.30am Friday 13th July 2018
James Hardie Room,
Centre for Professional Development
30th June 2018
Orange
TBC Oct/Nov (in line with other community NAIDOC events)
To be confirmed
TBC later in the year
Dubbo
10:30am Friday 13th July 2018
Main foyer
4th July 2018
Port Macquarie
12.00pm Wednesday 11th July 2018

NAIDOC awards ceremony will be held:
1:00pm 17 August
Indigenous Student Centre
25th July, 2018
Albury-Wodonga
9.30am Friday 13th July 2018
Winan-Gidyal Centre
( located on the first floor of the Gordon Bevan Building)
4th July 2018