Community Members Share their Experience as Tutors
Project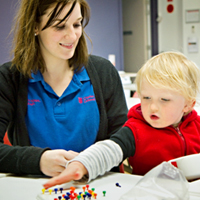 In order to work effectively with people with communication problems due to neurological impairment, third year speech pathology students need to understand how daily life and relationships are affected when living with these communication problems.
This is where our local community helps out.
Client Tutors are members of our local community and teach students over an 8 week period about their experiences of therapy (and of the health service in general), of their needs and aspirations, and how students can help in meeting these needs in the future.
In the Parent Tutor program, second year speech pathology students meet parents of children with communication and other complex needs, who act as tutors to the students, giving them an 'insider' view on speech pathology practice.
The meetings occur weekly for approximately one month in the parent's home or another community setting.
The content of the weekly meetings is determined by the students with their tutor, but often incorporates topics such as diagnosis, grief/loss, service provision, and advocacy.
Campus
Albury-Wodonga
Lead Centre
School of Community Health
Partners
Community
Link
Contact