(28 April 1795 – 16 June 1869)
Charles Napier Sturt was born in India on 28 April 1795. The eldest of 13 children, at the age of five he travelled to England for his education, joining the British Army in 1813 and later serving in Canada.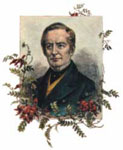 One of the most important explorers featuring in early Australian history, Sturt sailed to the colony of NSW in 1827 and began pursuing his strong interest in exploration.
With the approval of the Governor of NSW, Sturt set out to explore the Australian continent. His first expedition, in 1828, followed the Macquarie River through the Macquarie Marshes to the Darling River, traversing the region of the Macquarie, Bogan and Castlereagh Rivers.
His second expedition, taking place in 1829-30, traced the Murrumbidgee River to its junction with the Murray River and on to the mouth of the Murray at Lake Alexandrina.
In 1838, Sturt drove cattle overland to Adelaide and, choosing to follow the Murray River rather than the more usual route along the Murrumbidgee River, he mapped the course of the Murray above its junction with the Murrumbidgee.
Sturt wrote and published two books - both were journals of his expeditions into southern and central Australia. His life story, his work, his ideas and interests, his hopes and fears can also be read in the official documents and the private correspondence that have survived in archival collections in the United Kingdom, Australia and New Zealand. The Royal Geographical Society of London published accounts of his expeditions into southern and central Australia in the 1830s and 1840s. Articles and monographs since that time, from a variety of sources, have recounted and assessed his life, his work and his influence, and have retraced his journeys.
Charles Sturt University also seeks to identify and collate this material, in original or copy form, making available a body of information about Sturt the man; Sturt the explorer; Sturt the extraordinary person after whom the University is named.