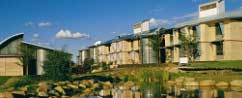 In 1972, shortly after the establishment of the Riverina College of Advanced Education (RCAE), a study centre was set up in Albury as part of an ambitious distance education program. The Albury study centre was replaced in 1976 by the Albury-Wodonga study centre, and in 1984 the study centre was officially recognised as the 'Murray' campus of the RCAE.
Effective from the 1 March 1985, the College's name was changed to the Riverina-Murray Institute of Higher Education (RMIHE) to better reflect the geographical areas serviced by the institution.
In 1989, the Charles Sturt University Act brought together the Riverina Murray Institute of Higher Education and the Mitchell College of Advanced Education to form Charles Sturt University. The Albury-Wodonga Campus became one of the three foundation campuses of Charles Sturt University, along with Bathurst and Wagga Wagga .
The University purchased the historic local site in central Albury known as 'The Cedars' in 1990, to be used as the administrative centre for the campus.
The University purchased a green field campus site at Thurgoona in 1993 from the Albury-Wodonga Development Committee to the value of $6 million.
A plaque and foundation stone were unveiled at the Thurgoona site by the Governor-General of Australia, His Excellency The Honourable Sir William Deane, to mark the commencement of construction on 18 April 1997.