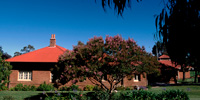 The history of Bathurst Campus dates back to 1895 with the establishment of the Bathurst Experiment Farm.
The Bathurst Teachers' College was established on the site of the Bathurst Experiment Farm. The first students commenced their training on the 12 March 1951, although the College was not officially opened until the 9 November 1951.
In 1989, the Charles Sturt University Act brought together the Riverina Murray Institute of Higher Education and the Mitchell College of Advanced Education to form Charles Sturt University. Bathurst Campus became one of the three foundation campuses of Charles Sturt along with Albury-Wodonga and Wagga Wagga campuses.
A ceremony was held on the 13 May 1991 to mark the naming of The Grange which was attended by Captain Anthony Napier Sturt, the great grandson of Captain Charles Sturt. The Grange was built as the administrative centre of the University, housing the Vice-Chancellor's office.