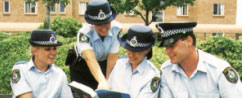 In 1968, the Department of Education took the decision to build several new Teachers' Colleges in NSW. In July 1968, tenders for the Goulburn Teachers' College were issued and the buildings were mostly completed by July 1970. On 30 June 1970, 185 students were enrolled at the college.
The Goulburn Teachers' College officially opened on 1 July 1970. On 8 August 1975 the corporate name of the college was changed to Goulburn College of Advanced Education. The college continued to offer primary and secondary teachers' diplomas until 1 January 1982 when it was dissolved and became the Goulburn Campus of the Riverina College of Advanced Education (RCAE).
On the 20 December 1983, the NSW State Government announced that the new Police Academy would be established at the Goulburn Campus.
In 1984, the Goulburn Campus of RCAE was disbanded and the staff and students were transferred to the Albury-Wodonga and Wagga Wagga campuses of the Riverina College of Advanced Education.
In 1993, Charles Sturt University and the NSW Police Service signed an agreement to establish a Professional Development Centre in Policing to be located at the Police Academy in Goulburn.
During 1998, the University created a new School of Policing at the Goulburn Campus in conjunction with the NSW Police Academy to further policing education.