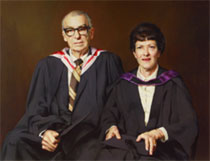 The McDonogh Endowment, which was established by its namesake in 1978, states:
"Official portraits of vice-chancellors shall be funded from the Jack McDonogh Endowment Fund under the rules established for the administration of that Fund".
The late Jack McDonogh is known mainly within the art world as a teacher and watercolourist. He had a long connection with Bathurst and with the Bathurst Campus of the University. He taught in NSW teachers colleges from 1951-1970, and in 1970 was appointed Head of the Creative Arts Department of Mitchell College of Advanced Education. He won the Bathurst Art Prize in 1958, 1961, 1962, and 1966. He and his wife Dr Colleen McDonogh, the Presiding Officer of the CSU-Mitchell Advisory Council 1990-1994, have contributed greatly to the establishment and growth of Charles Sturt University.